Being your buddy
since 1998.

We get it: kids aren't perfect and that's okay. Most won't ask for a second helping of broccoli, or any other vegetable, and it's rare that they'll leave behind a clean plate. In fact, many parents find themselves making extra meals or bargaining just to get through mealtime.
We think that life's a whole lot easier when kids are excited to come to the table to eat. Our products, with fun shapes and great taste, are kid-approved… and seconded by busy parents who love that nutritional benefits are baked into every bite.
Bronto
"Howdy! I'm Hungry!"
He may look like a tough guy but he's actually a big softie. The jokester of the group, Bronto loves to laugh. What does he love just as much as laughing? Eating, especially snacking while playing video games. He can be a little lazy but with a little motivation he'll get off the couch and join in on all the fun!
Hobbies: Playing video games & sports, mainly football. Also, did we say he likes to eat?
Favorite Dino Buddies Snack & Side: All the nuggets with all the sides!
Herbie

Hails from: San Diego, CA
"It is a fist bump, high five, jazz hands kind of day."
A natural born leader, Herbie loves to guide all his friends into many fun adventures. He's friendly, optimistic, clever, and curious, which means he's eager to learn new things and share his discoveries with friends like you. He's the perfect buddy to have if you ever need support and a helping hand. He'll find a way to make everything work out!
Hobbies: Visiting museums, solving riddles, playing games, and listening to music.
Favorite Dino Buddies Snack & Side: Dinosaur-Shaped Nuggets with a heaping pile of broccoli.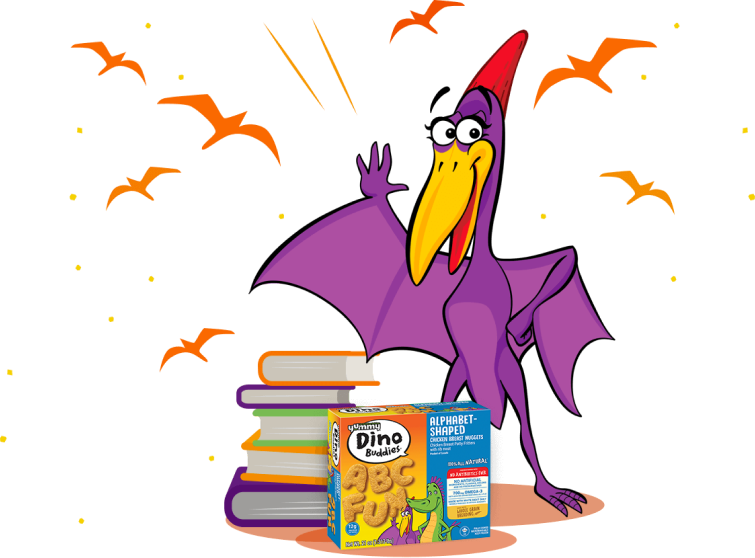 Petra
"I told you so!"
Ever hear the expression "A little birdie told me"? We're pretty sure it was inspired by our flying friend, Petra. Yes, she may not be a bird, but this pterodactyl loves to talk. She's super smart and courageous, too. She can get a little distracted and fidgety, but with a little guidance she can focus and stay on task.
Hobbies: Reading, karate, playing the violin, volunteering.
Favorite Dino Buddies Snack & Side: Alphabet-Shaped Nuggets with grapes and carrot sticks.