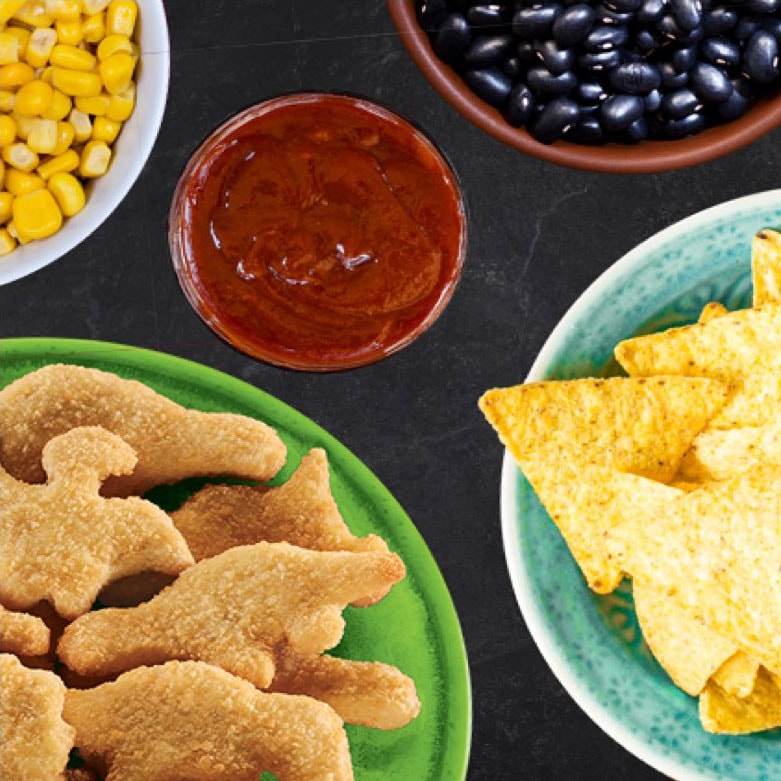 Jurassic Nachos
Add a little zest to snack time with a scrumptious platter of nachos featuring some fun dino shapes!
Ingredients
Yummy Dino Buddies Dino-Shaped Chicken Nuggets (About 13)
Tortilla chips (about 5 cups)
1 cup BBQ sauce
1 1/2 cups Fiesta Blend Shredded Cheese
1/2 cup black beans, drained
1/2 cup corn, drained cilantro, onions, tomatoes, salsa & avocado as desired
Directions
1- Preheat oven to 425°F.
2- In a deep dish pie pan, place the tortilla chips. Then, drizzle BBQ sauce over the chips.
3- Next, layer the black beans, corn, and other desired ingredients. Top with the shredded cheese. Bake in the oven for 15 minutes.
4- While the layered nachos are heating, place a single layer of nuggets on a baking sheet. Heat in oven for 10 to 12 minutes. Turn product over halfway through heating time.
5- Once cooked, add Dino-Shaped Nuggets to the nachos. Serve immediately. Add avocado and salsa if desired.